"I'm not writing for a particular audience. The reader in mind is me. If someone else would write these books I could go play golf."
~ Cormac McCarthy to high school students (read interview)
"Shucks, Scooter, no tellin' what some folks will write, now is there?"
~Wade Goodwin to NPR's Scott Simon (read and listen)
| | |
| --- | --- |
| Cormac McCarthy (1934-2023) | Wade Goodwin (1960-2023) |
Dear Readers,
Just this week we lost celebrated novelist Cormac McCarthy. A few days earlier we had lost a beloved broadcaster who also had a way with words, NPR's Texan correspondent, Wade Goodwyn. I always paid attention when his byline came over the air because I knew whatever he was about to say in his baritone drawl would be well spoken and heartfelt. He reported on many events throughout the Southwest, but seemed especially concerned with restrictions on abortion and gender-affirming care (as they say) that sadistic GOP legislators continue to ram through in Texas and other states. But he also covered the 1993 FBI Branch Davidian Siege, fracking bans [1], natural disasters, gun violence, an opinionated sportscaster, and even lucky and unlucky Bass anglers at the Mexican border.
Goodwyn's easygoing style put me in front of a campfire listening to my dad reminisce about an old car or a fishing trip, except that Goodwyn regularly covered serious stuff. More often than not, he came at it a slightly off-kilter fashion that gave his commentaries a special slant.
Cormac lived to 89, but Wade was only 63 when cancer took him. Find some words of appreciation from his colleagues and his his public radio oeuvre at NPR here. Somewhat ironically, through the magic of magnetic memory the list includes an eloquent obituary of McCarthy that Goodwyn had produced before the author's demise, as host Ari Shapiro mentions introducing the audio track.
I have no particular opinions about McCarthy's work. I'm afraid to admit that I haven't read his novels or seen their movies. (I read that he originally wrote No Country for Old Men as a screenplay, finished it as a novel, and then worked the screenplay for the Coen Brother's adaptation that's a bit too brutal for my taste.)
But I respect—if not envy—him for breaking literary conventions and getting away with it. McCarthy was noted for his sparing use of punctuation marks other than periods and for foregoing quotation marks. Also for being reclusive and rarely giving interviews. The most revealing was with Oprah Winfrey; McCarthy in chinos and cowboy boots slouches in a massive armchair, his arm propping his head as he speaks [2]. To me, his unaffected low-key manner echoes Wade Goodwyn's, even the tenor of his voice. I can almost hear Goodwyn reciting this evocative passage from All the Pretty Horses:
"By afternoon of the day following he was deep in the bolson and a day later he was entering the range country and the broken land that entabled the desert mountains to the north. The horse was not in condition for the riding he called upon it to do and he was forced to rest it often. He rode at night that its hooves might benefit from the damp or from what damp there was and as he rode he saw small villages distant on the plain that glowed a faint yellow in that incoordinate dark and he knew that the life there was unimaginable to him. Five days later he rode at night into a small crossroads pueblo nameless to him and he sat the horse in the crossroads and by the light of a full moon read the names of the towns burned into crate slats with a hot iron and nailed to a post. San Jeronimo. Los Pintos. La Rosita. At the bottom a board with the arrow pointed the other way that said La Encantada. He sat a long time. He leaned and spat. He looked toward the darkness in the west. The hell with it, he said. I aint leavin my horse down here."
Both men deeply perceived the contours and particulars of whatever they looked at, whether it was a landscape or the heart—whether beating or still—of a human being. Wish theirs were still beating to spin words for us.
---
And now, apropos of nothing, simply because everyone must do this on the Internet at least once, look at all my pretty kitties. Click the pic for a cute cat video. Every time I prepare their supper, they slug it out.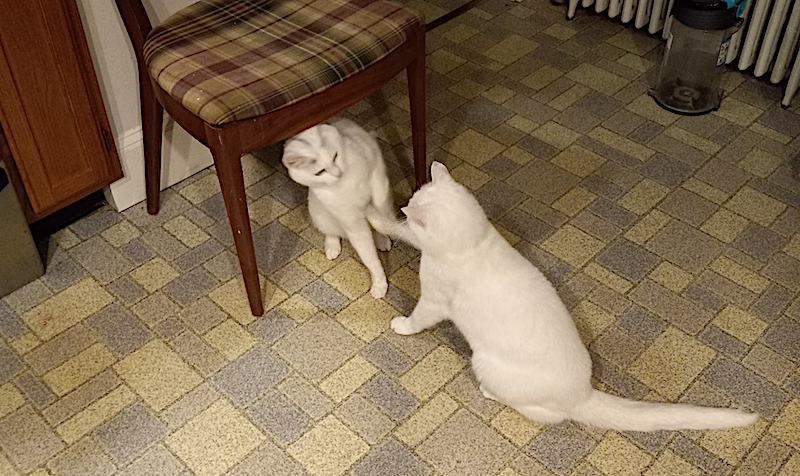 That oughta do it.
Cheers, y'all.
_____
1 Goodwin, speaking of Denton's short-lived fracking ban, metaphorically observed, "In frustration, the citizens of Denton voted last year by 59 percent to ban fracking inside the city limits altogether. But that turned out to be the mouse waking the lion. And the lion pounced and ate the mouse all up."
2 At one point, Oprah mimics his pose before picking up a copy of The Road, which had just won a Pulitzer Prize.
---