My apologies for not writing in August. Not only was it beastly hot, I was extremely otherwise occupied packing and moving our stuff to a new house.
I knew it was bound to happen and put it off as long as I could, but buckled under rising home prices, mortgages, and peer pressure. It wasn't the first time my spouse and I had committed to buying property but it was the first time our offer was accepted.
We dithered and negotiated over this and that for seven weeks before biting the debt bullet on a cute little mid-century cape in a modest but up-and-coming mill town 20 miles west of Boston. Sorting and packing and labeling and loading and hauling and unloading and distributing three tons of stuff took more than a month, leaving us with dozens of banana and banker boxes brimming with history to plumb and triage and keep or trash. The banana boxes at least found a good home in the barn of a coop that gleans otherwise wasted crops from local farms and donates them to food pantries and the like.
I located that group and other recipients for other items we were jettisoning by posting offers on freecycle.org, which is an overflowing font of free stuff. I lucked on to a human-powered lawnmower that way that provides needed exercise and does the trick pretty well as long as I don't let the grass get out of hand.
All the items we kept must fit into a house of less than 1500 square feet, including the finished half of the basement, currently stacked with boxes of stuff having no clear disposition. Erected in 1950, our abode sheltered seven owners before we linked into its chain of custody. They seemed to have kept the place up pretty well, but it still needs some restoration work.
Close to a month in, we're sort of organized. Most rooms look civilized, even with no art on the walls. Besides artwork, what remains to be distributed is mostly printed matter, tons of it, including hand-me-down memorabilia and dusty photos of relatives I can't quite place, most of whom have passed on (some before I was born), now reborn as house-guests living in our basement who refuse to leave. What am I supposed to do with them?
Despite our dislocation, we never lost touch with the Internet. Reconnecting was fairly painless—it only took five calls to Verizon (plus authentication each time) and a rendezvous with their cable guy. Our IP Addresses changed but we kept our phone number and get the same robocalls, minus whatever NoMoRobo manages to divert. Seriously, if you're weary of screening phone spam you should try it.
Our house by the side of the road sits in a mid-century suburban neighborhood, half a mile from the town center. But there's plenty of woodsy and watery open space nearby, including several national wildlife sanctuaries. We previously lived in a dense suburb of Boston, on a sleepy one-block street with little traffic. It's upscale, with a median family income 60 percent higher than our new town's and twice its population, populated by university professors and other professional types, which sort of explains why we were never able to buy a house there.
The road we're on now is a double-line thoroughfare, a convenient cut-through connecting three state highways. And so, for most of the day, hardly ten seconds elapse between vehicles hustling by at 30 or 40 MPH, half of which seem to  be pickups, a lot more than in our former locale. But at least we no longer live under a flight path to Logan Airport, and there's a mini-farm stand right across the street selling tomatoes, peppers, and sweet corn from our neighbor's garden.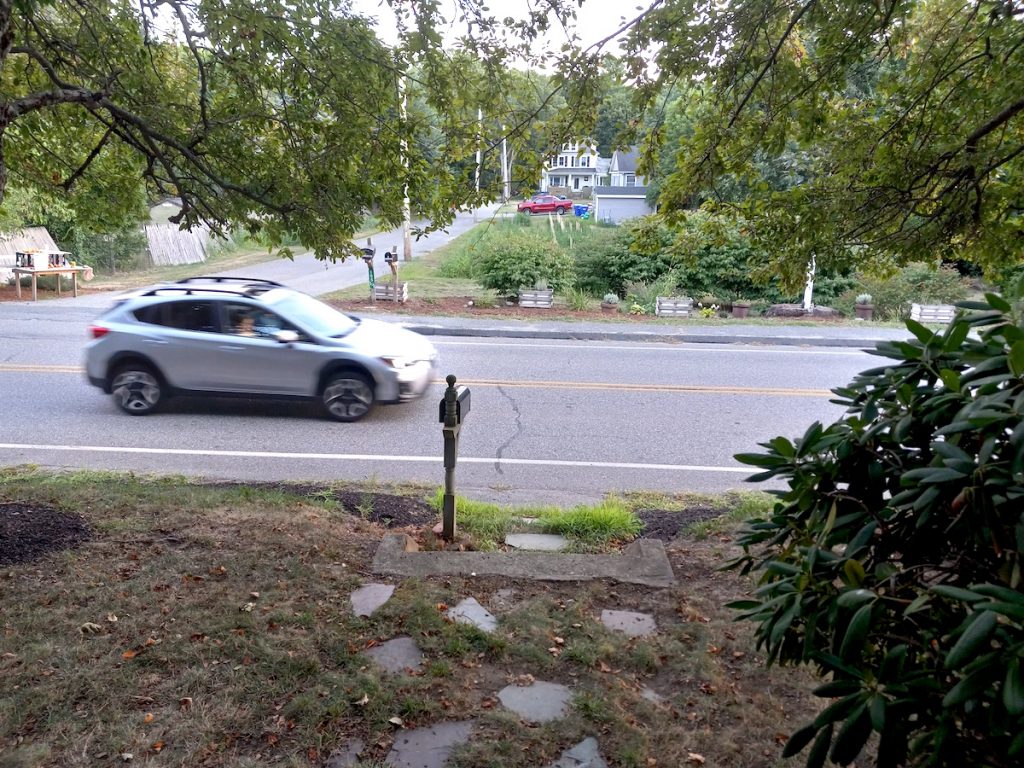 Several weeks before closing on our house, we attended a town meeting. (Both towns have that form of participatory governance favored in New England.) Unlike our former town, which under Covid has conducted its annual meeting by cable television and Zoom, this one took place in the middle school's parking lot. Proceedings from the outdoor podium were broadcast to the attendees' FM car radio and over a PA for all to hear. Runners with wireless mics collected comments on each action item (called warrants). Yea or nay votes were taken by holding up pink placards from car windows or withholding them. The level of engagement and the community spirit buoyed us, and we came away feeling we could happily live here. And a week after moving in, we registered to vote and cast our ballots in the state primary, both on the same day.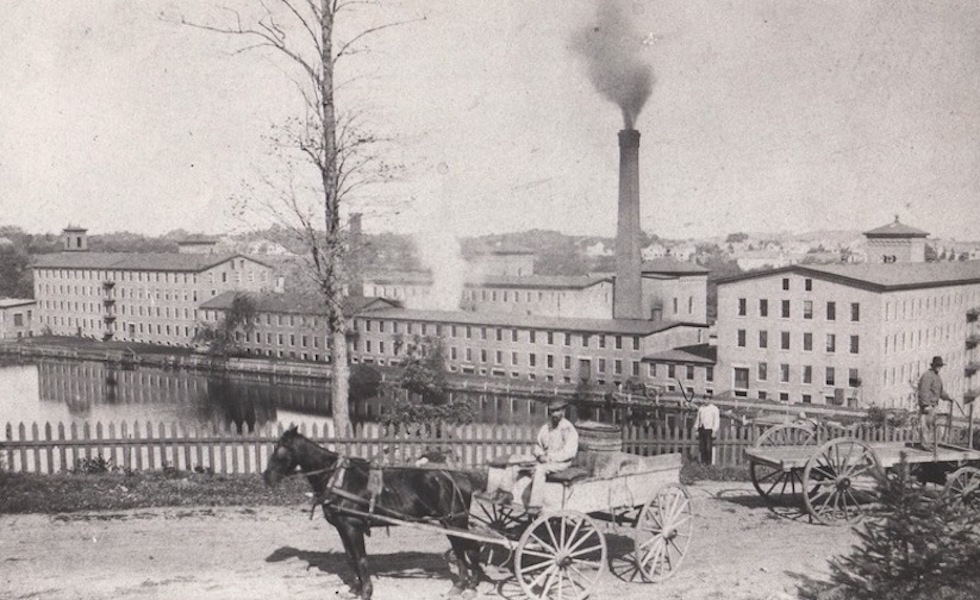 Maynard, Massachusetts sits astride the Assabet River, now not as polluted as it was when the big woolen mill was operating, but still unsafe for swimming and fishing. The mill has been repurposed as an industrial park, with a craft brewery, a flute factory, and high-tech companies. (Digital Equipment Corporation started there in the 1960s to manufacture minicomputers.) Every Saturday a farmer's market sets up in the parking lot.
Please visit us for a cold drink or a spot of tea and a tour of downtown if you're in the area. We would be glad to see you.
Time to mow the lawn. I gotta go.
---
You can find this and previous Perfidy Press Provocations in our newsletter archive. Should you see any you like, please consider forwarding them to people who might like to subscribe, and thanks.