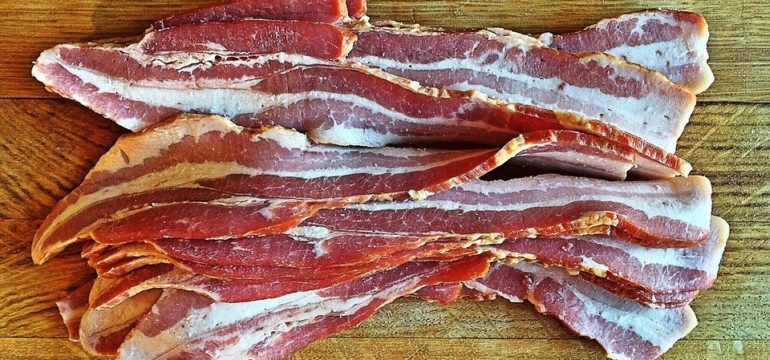 Uncooked meaty bacon, courtesy of Science Meets Food blog
Dear Friends,
Before I get going, let me update you on last month's used car quest. Craigslist came to the rescue with an ad for a Forest Green 2010 Toyota Corolla EX sedan without frills but in great condition with new exhaust system and tires. Turns out it was traded in by a local couple at 115,000 miles and our seller took it off the dealer's hands. He's a Ugandan dude who drives around in a flatbed tow truck, which is how he delivered the Corolla. The next week he returned to make off with our old Honda, which he bought for himself as an extra car. Interesting fellow; at about 130 pounds, he's thin as a rail and dark as night with handsome chiseled features and likes to share his carefully construed life philosophy. And I when wanted the car checked out, he trucked to my auto mechanic who, it turned out, had known him for years.
When she came down from Vermont to exchange cars, our daughter was delighted with it. I love it when things groove like that. In case you're wondering, after the exchange of cars we were out around $5K, though sale tax, title fee, and registration bumped that up ten percent. We're all happy with the deal and I'm particularly happy to be done responding to car ads by shady guys named Bob or Tony.
Leave a Comment