Liar's Candle, a novel by August Thomas, New York: Scribner, 2018, 310 p. IBSN 9781501172847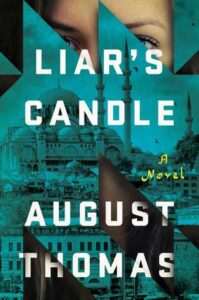 When I learned of this book late last year, it struck a chord. It was the first recent political thriller I had encountered set in Turkey, as is part of one I published about six months later. And so, to compare notes, I gave it a read and found that our books are different animals with kindred spirits. Here is my book report.
The title of August Thomas's debut international thriller comes from a Turkish proverb, "A liar's candle burns only until dark," an appropriate motto for the full helping of duplicity that Thomas serves up. This fast-moving tale whips the reader between locales in Turkey and the US, plus a brief, tense incursion into northern Syria. Changes of scene are datelined, dispatch-style, helping to keep one oriented as the action shifts from one exotic setting to another, for example the presidential palace in Ankara, a hotel in Istanbul, a city in far-eastern Turkey, a monastery in Syria, and even into ancient cave dwellings. Thomas also regularly transports us across the Atlantic to an even more inaccessible location, CIA Headquarters in Langley, Virginia. There we find hard-boiled uber-spy Christina Ekdahl remotely rattling the cages of agents and diplomats working in Turkey in the service of American national security and her own self-serving designs.
1 Comment