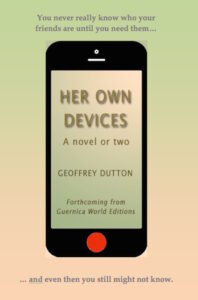 Geoffrey Dutton's second novel, Her Own Devices, will be published in 2024 by Guernica World Editions. Despite being under contract, it's still a work in progress that's been shape-shifting for three years. Although some of its characters and locales derive from his Turkey Shoot, it travels on quite a different tack, more women's crime fiction tinged with magical realism than conspiracy thriller. For the story behind the story, continue reading and check out the sneak preview and the Excerpts page.
Now going by her real name Anna, Turkey Shoot's femme fatale Katrina takes the lead In a sequel that's more women's crime fiction than international conspiracy thriller. The harrowing events of four years ago left her feeling lucky to be alive but with a lot of new and unfinished business on her plate, not to mention a son, now turning five.
Katrina was the nom de guerre adopted seven years ago by Anna Burmeister, a twenty-something Swiss expat who settled in Pireaus, Greece at a time of great economic privation and social unrest. Like other radicals on the scene, she encrypted her name to take part in radical community organizing, but since unencrypted it to avoid blowback from those days, a fear that continues to surface.
Had she been married to Mahmoud Al Ramadi in Turkey Shoot, she would be a widow. Five years have passed, and she's a single mom raising their son. She's made a life, works two jobs, but continues to be haunted by guilt for Mahmoud's tragic fate. That's a pity, because his spirit is nearer and more forgiving than she knows, benevolently watching over her, expressing his frustration from being excluded from Paradise and his hopes for Anna and their boy.
What makes it crime fiction is Anna's obsession to bring certain child traffickers to justice in a criminal justice system she doesn't trust. To prove her case, she needs to catch them in the act of child abduction. To get the evidence she needs, she deploys certain surveillance devices, and then make a citizen's arrest ,for which she needs backup, as many committed allies as she can persuade to join her crusade. It helps that she has a friend who hacks devices and that she lands a job evangelizing a social media startup, a virtual platform she can deploy to build her crime-fighting network, if she can find a way to leverage it when the time comes.
Can this smart, driven, anxious single mom brooding over a past she cannot reveal, yearning for community, justice, and love, ever find it? Can Mahmoud's ineffable spirit somehow bend the outcome in her favor?
All that happens brings her to the paradoxical conclusion that you can never really know who your friends are until you need them, and even then you might not know … but that's okay.
As I wrote Turkey Shoot I didn't allow myself to think about a sequel. But when I got to the last chapter I thought, "What if…" and so dropped in some breadcrumbs, just in case. The notion was entirely vague, simply that female lead Katrina would have a son conceived on her lover's deathbed and perhaps work in social media.I had in mind no plot or even a genre, but at least I had a backstory, locale, and some ready-made characters to get things going.
When I lurched into writing Devices close to a year later, I still had no notion of what it was to come; I just started writing, focusing on character and setting. This is how we "pantsers"* work, one paragraph at a time. One consequence is that events unfold at a leisurely pace. Another is that the backstory unfolds entwined with the plot. To some extent, that structure was deliberate; I wanted the text to have fractal qualities, as I said as I began. As it turned out, it does have a number of, shall I say, self-similarities.
I decided that enjoying
Devices
should not require familiarity with
Turkey Shoot.
It shouldn't matter because I would weave relevant details from the first book into a running motif of
Devices
, while not giving everything away. (In fact, the new book's  working title was
Recapitulation
.)
You can pick up
Turkey Shoo
t any time you wish, but you shouldn't have to to fully appreciate
Devices
.
If you want to dig into Her Own Devices you might start out with the sneak preview. If that wets your whistle, find three of its 31 chapters previewed by The Write Launch. You'll find links to them on our Excerpts Page, which also includes an audio clip of Mahmoud's otherworldly introduction.
————

* A Pantser writes by the seat of their pants, letting events unfold the way life does, as opposed to a Plotter, who outlines the whole narrative and then fills in the details.
---
Thanks for visiting!
Every so often, other content may be posted on this site or elsewhere, so please come again. You can leave a public comment, but if you wish to keep it private or should you have questions, please use this contact form. Thanks.