Douglas Rushkoff Wants Us to Rewind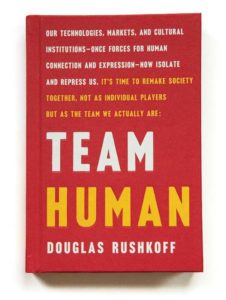 Team Human by Douglas Rushkoff (W.W. Norton, 2019, 256 p. hardbound), ISBN 987-0-393-65169-0, $23.95. Also available in eBook and audiobook formats.
The entities called computers were originally human beings, people like the accounts clerk Bob Cratchit in Dickens's A Christmas Carol. In the mid-20th century, computers were (mostly) women who worked calculators and slide rules, tasked with tabulating data and solving numerical problems. Nowadays, says Douglas Rushkoff, computers run us as extensions of applications that abuse us for fun and profit. Rushkoff has had it with the soul-sucking "innovation economy"; to retrieve the human agency and dignity that technocracy has usurped, he proposes not a revolution but a renaissance of pre-industrial, even pre-enlightenment, societal values. Rushkoff emerged as an early member of the digerati, but has since been a longstanding critic of those who control digital media and manipulate its users, not to mention capitalism itself. Now a professor of media studies (CUNY Queens), public intellectual, and podcast host, he's quietly assembling an army of change agents. Their mission is to "challenge the operating system that drives our society" by organizing the (better-educated) masses to throw off their (block) chains by imagining and building human-scale alternatives to giant financial institutions, public corporations, and their enablers. Given how overarching and well-wired global capitalism is, that's a tall order, but Rushkoff asserts that the battle can be won if we stick together.
Leave a Comment