Dear Readers,
This month, no august pronouncements, just some random thoughts. Well, just one diatribe:
Tech companies want to make themselves indispensable for anyone who wants to participate in the 21st century and they are winning, thanks to so many consumers desperately wanting to be up-to-date. If you need evidence, look through this keyhole into how this process works, propelled by huge private equity investments in startups promising better living and higher profits through automation of things we do and ones they want us to do. That link sends you into an episode of TechNY Daily, a perky newsletter I started receiving several years ago. Through it, I've seen how investors and their cheerleaders cultivate tech innovators to develop new ways to make a buck, consequences be damned. Currently, the vultures' plat du jour is heaped with servings of AI, which they seem to believe can do anything worth doing better than it's ever been done. With predators like these in the driver's seat, it's up to us to flatten their tires before they take us for a ride to human obsolescence.
---
The Don's Crime Wave: It's gotten hard to keep count of the indictments of Donald Trump and his criminal associates, so here's a handy scorecard, courtesy of The Washington Spectator, which I recommend following. Despite an array of charges far more serious than paying off a stripper it seems thirty percent of voters still support him, mostly out of hatred for his oppressors, methinks. Trump's one tough nut to crack, but now there are nutcrackers galore.
---
Conformist Cars: As I mentioned last fall, I continue to keep track of cars passing by our house. It seems one comes by every 10 seconds or so during the day. Recently, I've been noting what color they are and am dismayed that about eight out of ten of them have no color at all; they're mostly black, grey, silver, or white. The dominant color of the rest is red, followed by blue, a smattering of green, and then the odd orange, copper, and gold. And when I looked up the most popular car colors, it seems that between 75 and 85 percent of new cars are colorless, state after state. (In every one, the leading finish is either black or white.) I'm dismayed that there actually are people who track these things for a living.
I can only conclude from these data that Americans are sheep, or at least wear sheep's clothing. And the odd thing is that colored cars tend to have higher resale values, but I guess people, being well-trained consumers, don't think that far ahead. Do auto companies make so many colorless cars because customers want them, or are they just saving money on paint?
We're outliers. Our two cars are both green; one's an EV, so it's sort of green-on-green. (If you're curious, see our EV backstory and some history here.)
---
On Becoming a Cue Ball: No, I haven't shrunk to the size of one, but I am becoming almost as white and shiny. Over several years I've lost my body hair. I got used to it, but now hair is jumping ship from my scalp and face too, to the point I hardly recognize myself. At least I don't need to shave anymore. Has this ever happened to you, without going through chemo? My Dr. says it could be something called Telogen effluvium, which they say is stress-induced and may reverse course. But I haven't had any unusual stressors since Christmas, when, as I told you, I found myself in the hospital and came down with Covid upon my return. (It was my wife, not the someone at the hospital, who infected me; blessedly it was a mild case.) Whatever, I'm soon to be a hairless wonder just in time for my book tour.
---
What I've Been Writing: Not much to speak of, but I did submit a couple of reworked stories and the opening of Her Own Devices to literary mags. For the past couple of years I've subjected chapters of it to my writing group in preparation for final submission. Columbia Fiction Foundry is a shifting bunch of fellow alumns who twice a month vet each other's chapters and stories. We're up to chapter 26 (of 31) of my novel now and probably won't finish before I have to submit to the publisher, who of course will edit it anew.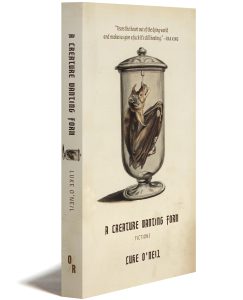 Actually I did write something new, a book review. After finding Luke O'Neil's vivid blog Welcome to Hell World, I subscribed and bought his most recent book. It's a collection of "fictions" called A Creature Wanting Form; curious short takes on life the universe and everything, illustrated with old etchings of critters. Click the + part way down this page to read an excerpt. I enjoyed it's offbeat sensibility and eccentric style so much that I shelved it in my bookstore (affiliate link). Find my review at bookscover2cover.com along with some other  stuff of mine. Turns out Luke lives quite close to me, so the least I could do for my neighbor was to buy the book. Now you help him out. Buy his entertaining and insightful collection of slices of life.
---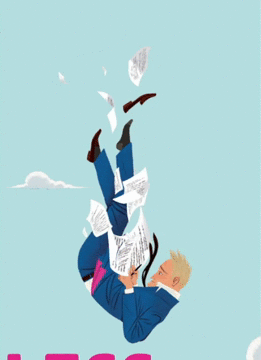 Another book, no Less: I really enjoyed reading Less by Andrew Sean Greer (Back Bay Books, 2017). Title character Arthur Less is turning fifty and worried about it. Less is a novelist whose lover Freddy has left him to marry a younger man. To escape his stagnating life, Less books himself on a world tour, a intercontinental random walk that goes from bad to worse. His hapless itinerary takes him to Mexico, Berlin, Rome, Paris, Morocco, India, and Japan to pontificate on panels, teach writing to bored undergraduates, review trendy restaurants, and feebly try to rework his novel at a Christian retreat in India feeling mortality nipping at his heels. Greer's prose is wickedly entertaining—insightful, wistful, funny, witty, and conveyed by an insouciant narrator who sometimes slips into the first person. For a good time, run to your local library or buy it at bookshop.org.
Nuff said. Ta-ta for now. Hang in there.
---