These are tough times for political progressives in that Disneyland of the Mind called the Sunshine State. (Wasn't "Orange Sunshine" a popular variety of LSD?) Lefties there recently lost a cherished political journalist, but at least an equally acerbic progressive politician remains to entertain them.
Veteran Miami Herald columnist and gonzo novelist Carl Hiaasen's retirement last March (read his parting shot) left a yawning sinkhole in Florida journalism. For 35 years his columns had the zing of wit and truth like those of his long-time colleague, humorist Dave Barry. Like his op-eds, his two dozen riotous novels—most with two-word titles such as Strip Tease and Skinny Dip—skewered corrupt politicians, greedy land developers, and know-nothing civic boosters, who often received their comeuppance from wild animals.
Hiaasen's principled, take-no-prisoners style will be sorely missed in a state long besotted by blatant avarice and backroom deals. ("Once I called Miami City Hall a 'bribe factory,'" his final column advised, "and another time described Tallahassee as a 'festival of whores.' Too subtle? Possibly.")
In a weird coincidence, on the same day that Hiaasen's last byline appeared—the Ides of March, in fact—the $800,000 home of ex-congressman Alan Grayson and his wife, Dr. Dena Minning was consumed in a 1 AM fire of undetermined origin. Thankfully, they were unharmed, but I fear his collection of 30 pairs of Italian boots may not have survived.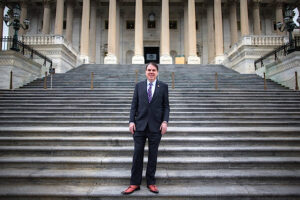 Grayson's six-foot-six frame stalked the halls of Congress in cowboy boots for three terms (2009-2011 and 2013-2017). Besides quirky, he was uncompromisingly progressive and, like Hiaasen, the bane of political grifters and hypocrites. No prevaricator, every time he opened his big mouth some bon mots tumbled out. You may recall him on the House floor epitomizing the GOP'a approach to health care as "Don't get sick, and if you do get sick, die quickly." His 2013 incendiary comparison of the Tea Party to the Ku Klux Klan infuriated GOP pols but nowadays seems especially apropos the Republican base.
In 2016, the loudmouth congressman from Orange County gave up his seat (for which spouse Dena then ran without success) to challenge Sen. Marco Rubio, but lost the primary to (ex-Republican) Patrick Murphy, whom Rubio then roundly defeated. The DSSC had snubbed Grayson, favoring Milquetoast Murphy, as Grayson may have called him. No wonder: Democratic Party strategists had long feared that Grayson's political waves would sink their battened-down neoliberal ship were his ideals and antics to gain currency. You may recall Minority Leader Harry Reid telling the besieged Grayson "I want you to lose."
Grayson set up PACs that funneled more money to progressive Democratic candidates than any member of Congress save Bernie Sanders. That and his bid to unseat Rubio may be why the Republican-led House Ethics Committee decided to look into three hedge funds (two of them in the Caymans) he set up in 2011 while running for the House. Despite finding probable cause, the investigation petered out after he lost in 2016, as did his wealth funds after that.
None of that seems to have stopped him from trying again. Several weeks ago, a letter from Grayson popped into my inbox telling me he was exploring running against Rubio once again, and this week he formally filed campaign papers and is begging for money in earnest. He's running in the primary against progressive icon Rep. Val Butler Demings (D FL-10) and two lesser-known up-and-comers. While I haven't decided whether to support the man's chimeric crusade, his rhetorical flourishes still charm me.
Here's an example of Grayson's gift of gab, his latest email blast on the unlikely topic of his dog. Mind you, while I'd love for Rubio to become legislative history, I am not electioneering. I don't live in Florida or approve of anything man-made there. And with that disclaimer, here you go:
From: Alan Grayson
To: me
Subject: Is my dog a Socialist?
Date: Jun 3, 2021 5:21 PM

My wife Dena and I have a dog named Bynum. He's a Maltese and also, I'm starting to suspect, a socialist.

[photo of cute, tiny white dog in a basket]

He expects to be fed. He expects to be groomed. He expects free medical care. I suppose that I should be grateful that he hasn't bugged me for a student loan.

He never goes to work. He doesn't even work at home, unless you want to count his home security work. Barking at strangers, I mean.

Admittedly, I've never heard him advocate social ownership of the means of production. But I've never heard him speak out against it, either. In fact — and this is really suspicious — I've never heard him speak. Words.

That being said, we love Bynum, even if he is a socialist. As Richard Nixon said in his "Checkers" speech, we "love the dog, and I just want to say this, right now, that regardless of what they say about it, we're gonna keep it."

Let me make that perfectly clear.

If you support this campaign, then whether or not Bynum is a socialist, I promise to give him a treat


Senator Joe McCarthy, a Nixon contemporary, warned people that there might be Communists under their beds. Bynum is, often, under our bed. Coincidence? I don't think so.

Now, I am not suggesting that Bynum is a communist. He often will beg for food, but he has never threatened to break anything if he doesn't get it.

We take care of Bynum, and indulge his socialist tendencies, even though there is no chance that he will ever take care of us. The same thing with our parents, whenever they need help. The same thing with our children, for the most part. There is no quid pro quo. We do it out of idealism and compassion, because it's right.

Same thing about supporting this campaign. You won't get anything out of it, directly. Just the sense that I share your idealism and compassion and, therefore, it's the right thing to do.

Well, here I am, just like Bynum — asking you to give something in exchange for nothing. Pure socialism. You'll get nothing out of this, except the sense that if we work together, then we can make Florida — and the Whole Wide World — a better place.
(I removed the embedded donation links from the message, but just in case you have an urge to support Alan, you can do it here. Personally, I'm gonna wait and see how well Bynum holds up on the campaign trail.)
---
From Perfidy Press Provocations, a quasi-monthly newsletter, June 4, 2021
To subscribe, follow this link. Free, with no obligation.