Welcome to Perfidy Press
Publishing dark matter since 2018
We Geoffrey Dutton, Perpetrator, & guests
We hope you enjoy your visit. There's lots to see here and it's not all perfidious. Besides pages about us, our philosophy, and our publications and works in progress, there's a blog with literary musings, book reviews, and opinionated thoughts on politics and technology. Scroll down the sidebar for additional posts.

On this page find a diary of things we've been doing to scroll and click through.

Be sure to visit our blog, which features book reviews, offbeat rants and essays, and recent editions of Perfidy Press Provocations, our quasi-monthly quasi-literary email newsletter. It's free, ad-free, and like many newsletters is self-promoting, informative, and engaging at the same time, only better, and you can unsubscribe anytime. Check out some recent editions and give it a try, then head over here to sign up.
And anytime you thirst to dive into a new book, feel free to visit the Perfidy Press Bookstore (affiliate link) over at bookshop.com. We'll be adding a shelf called Friends Recommend, so if there's a book you've read that others might also enjoy, tell us of your title in our contact form.
---
August 2023: Been reading a lot, fiction mostly. Liked literary critic Lauren Oyler's first novel, Fake Accounts, whose unlucky-in-love heroine takes up arms against the online world but, like the rest of us, regularly loses.
Then found a gem in Luke O'Neil's A Creature Wanting Form, a collection of quirky, dark, yet often funny short stories that I highly recommend. Read my book review at bookscover2cover.com and consider buying it (affiliate link) from my bookstore. Visit his site Welcome to Hell World and subscribe to his wide-ranging (politics, books, music, environment, social justice, and human stupidity) newsletter should you like what you see. Luke deserves to be more widely known for his idiosyncratic takes on life, death, the universe, and everything.
In my latest quasi-monthly newsletter, The Manichean Candidate, I took a look at JFK Jr's contrarian opinions and his presidential aspirations. Check it out and consider subscribing, or thanks if you already have. There's a bunch of issues you may have missed in the archive.
---
April 2023: Been a while since I updated this page. Since then, loyal readers have received five monthly newsletters, the latest as of this writing, all available in the newsletter archive. The current edition focuses on the impermanence of the stories we tell in the digital age, which may come as a surprise if you consider the World Wide Web to be a permanent record of human experience.
It also speaks of an essay I originally wrote in 2013 called The Great Circle of Storytelling, of the website where it appeared, and why it's no longer online. I resuscitated the essay, edited and updated it, and in March saw the revision published at bookscover2cover.com as Electrifying Oral Tradition. The update recounts a session I had with the notorious AI conversationalist ChatGPT in which I prompted it to tell me a short story based on an incident in my forthcoming novel, Her Own Devices. I found its response quite … sobering.
Given how AIs can generate original art and convincing fake videos, we can expect them to be publishing novels any day now, not a good thing as far as I'm concerned. What do you think?
---
October 2022: Trying to figure out who I am and what I'm doing beside homeowner chores, looking for work, and editing my novel. Came across a personal statement from 2000 or so that I recently reread and found fairly honest and informative about my career up until then. It was for my very first website Spatial Effects, a primitive website I coded to promote me as a geospatial data guru. Given the content here, my geekiness ought to surprise you.
Oughtobiography
By now, I ought to have made my fourth or fifth million. The only millions I have are all bytes, and they're not all mine; still, a lot of them did tumble from my keyboard, except for the ones that the mouse shat out. If ideas are currency, I'm a rich man. But they're more like promissory notes.
I suppose I ought to have a senior position in a big company that pays me to think deep thoughts and revolutionize their industry. That actually happened once, but the business went bust. I futzed around for a few years, then went back to school. People in universities tend to tolerate my presence; I guess I amuse them. At least I have neat stuff to show for it.
People tell me I ought to promote myself more aggressively. That's why I made this web site. In it I explain what I'm about, with a minimum of hype. That is, everything here is essentially nothing but what I can truthfully tell and show you — some diversions but no gimmicks, some suggestions but no "solutions", and mostly just interesting, potentially useful insights from my bitstream.
I ought to alert you that I do consulting in the area of organizing and visualizing geodata (geographic information). The general technical category for such pursuits is called geographic information systems (GIS). In my salad days it was wishful thinking on the part of a tiny clique of people who plotted primitive maps using huge, crabby computers. Now it's a multibillion dollar industry stretching from architecture to zoology.
GIS vendors say that their technology will slice, dice and puree geodata just the way you like it, but don't believe it. Someone ought to inform you that a lot of what's out there is overblown. Even when it isn't, you won't know how much to trust your results when almost any kind of spatial analysis is involved. We stand ready to help you see through the smoke and behind the mirrors.
Finally, I ought not to use the first person plural to describe personal activities. But I like using "we" to acknowledge that many individual achievements are raised on scaffolding built by other people. Most of what you'll find here owes a lot to teachers, colleagues, scientists, artists and inventors who have taught me much. I also know a lot of folks in the profession and network constantly, and if I can't help you myself, I can team with or turn you over experts who probably can. So if you have geodata problems on your plate, let's talk.
---
June-September 2022; We bought a house and moved 20 miles east of Boston. Needless to say, not much else was happening.
---
May 2022; "Math and Aftermath": Tell Me a Fractal and On Telling a Fractal, a pair of craft essays, are now up at bookscover2cover.com. The former, a revision of one written in 2019 that's available here, reviews a book that helped me start and structure a novel that became Her Own Devices. The latter describes fractal and other geometric forms found in the completed novel — some intentional, others more subliminal. Kudos to editor Sandra Fluck for suggesting the project and shepherding my prose, and to Justine Fluck for the exquisite presentations.
---
March 2022: bookscover2cover.com, which features book reviews, author interviews, and craft essays, published my review of Disclaimer, a 2015 psychological thriller by British author Renée Knight. My review/essay compares her book to my  own Her Own Devices, both of which feature a book-within-a-book theme. Find it here. Devices has been accepted for 2024 release by Guernica Editions, a Canadian publisher of literary fiction and poetry.
---
March 2022: The Write Launch published Chapter 9 of Her Own Devices and updated its previously-published chapters 3 and 8 to the novel's current version (6.6). See the Excerpts Page for links to all chapters available at The Write Launch.
Her Own Devices is slated for publication by Guernica World Editions in 2024.
---
March 13, 2022: Our Ides of March newsletter, discussing the avoidable tragedy in Ukraine and celebrating the release of Jeff Schnader's novel and eventually mine. The former came out this month from Permanent Press. The latter will be released by Guernica World Editions the year after next, possibly sooner.
---
GREAT NOVEL March 1, 2022: Jeff Schnader, a fellow college alumnus, just published a novel. Set on the tumultuous 1972 Columbia University campus during the time of nationwide demonstrations against the Vietnam War, The Serpent Papers is the first book of any kind written about the protests and is based on the real-life experiences of a participant and witness to the events of the era. Read more about in in this post and should it move you, order it here.
---
February 16, 2022: The February newsletter, On Making Black and Other Lives Materially Matter, celebrates Black History Month and makes a brief for the labor movement. Find it in the Newsletter Archive.
---
January 18, 2022: We usher in a new year with a post of today's newsletter, Becoming a Bookseller to Beat the Odds, which runs down what it's been like to be an independent author or bookseller during the Covid pandemic, and how I split the difference by opening a bookstore. Find it in the Newsletter Archive. If it pleases, consider subscribing to future newsletters with no obligation beyond perusing one every month or so. Hope 2022 will be good for you in important ways.
---
December 5, 2011: Once upon a time almost a decade ago there was a crusading blog called Fearless Revolution. I joined its roster of writers towards the end of its arc and published 11 articles on environmental stewardship, high tech and innovation, and consumer rights and responsibility. Those and all the other writers' articles vaporized when Alex Bogusky, its proprietor, called it quits and went on to do other things. Before Fearless Revolution took its final bow I downloaded my posts, and recently have resurrected them over at Progressive Pilgrim Review. See this article there to access them and to read more of the story.
---
Her Own Devices, a novel in progress
You never really know who your friends are until you need them, and even then you still might not know, but that's okay.

Her Own Devices is a sequel to Turkey Shoot, but it's not a thriller. Genre-wise, I would call it Literary Fiction cloaked as Contemporary Women's Crime Fiction with a magical twist.  To understand what that's supposed to mean, view it's main page. And while you're waiting for it to finish baking, see how it's rising over at the Excerpts page and  browse the tidbits scattered below.
#
Update 9/6/21: I'm now seeing some light at the end of my tunnel vision as I pore through the text for the sixth revision.  Incisive feedback from some loyal readers lights the way. You know who you are and hope you know how thankful I am.
I've entered chapters in literary competitions, and started querying independent publishers and (hoping against hope) some literary agents. I'd love to release Her Own Devices along with a new edition of Turkey Shoot, as the two are  bound at the hip. But maybe that needs to wait for the third book (trilogy sounds more impressive than duogy, were that a word). While following up on Devices is an attractive option, I can only focus on one book at a time.
For better or worse, Devices gets off to a leisurely start. To get you into that contemplative mood, listen to this five-minute passage that introduces the book, a soliloquy by the late Mahmoud Al Ramadi, spoken from his unfurnished halfway house to heaven.
#
Update 4/3/21: The fifth revision is a wrap at 272 pages and 92K words! This was a sentence-by-sentence edit that removed unessential passages, clarified events in backstory and timeline, and generally polished prose, following an excellent analysis by fiction editor William Oppenheimer. Before launching into the next pass, I'm looking for "beta" readers to critique rev. 5. If reading the manuscript interests you, please go to this page, where you can read an excerpt and then fill in and send the form at the bottom. We'll be in touch.
Many thanks to early readers who have helped improve previous versions. For your efforts you can receive a copy of the published novel.
#
Update 2/4/21: Chapter 8 of Her Own Devices  was published the February issue of The Write Launch. This chapter opens Part Two, Anxious Anna. The online journal previously published Chapter 1 (since relocated as chapter 3, but who's counting) and before that Chapter 22. Click to read. Have a ball.
#
Update 12/26/20: Well, that wonderful fourth draft needed some serious work according to some early readers, and so rev. 5 is now underway. Some got confused as to who is who and what happened in the backstory. Some said the A-story puzzled them, likely due to the way it doles out hints and takes its own sweet time filling readers in. To fix this, the path of least resistance seemed to be to add a prologue that sets the overall scene. So that's what I did, and just for fun put it in the voice of my protagonist and gave myself a bit part. Here is how it came out. Please feel free to say how it strikes you, There's a response form at  the bottom of that page.
#
Update 12/3/2020:  Applause, please. At the beginning of this month I wrapped up the fourth complete draft of Devices and since have retained an editor to evaluate the manuscript. The revision is pretty drastic, with a new character drawn from Turkey Shoot, a bit of rearranging, and much rewriting. As it's a sequel, one might wonder whether it's best to read Turkey Shoot before tackling Devices. That was never my intention, as I explain here.
---
A Penny for Your Ism
The strange and wonderful world of belief systems
Reactions to Blake Bailey's new biography of Philip Roth
New blog post 4/5/2021: The Gripes of Roth
#
Notes on craft: Being a fictional character ain't easy and you don't even get royalties
New blog post 2/20/2021: Getting the Better of a Protagonist and Vice Versa
The debt I owe John le Carré (1931-2020) I'll never be able to repay

#
Some Thoughts on the Method Behind Alt-Right Madness
New blog post 1/9/2021: Looking Behind and Beyond the Sacking of the Capitol
So, what we can expect from Donald Trump and his storm troopers in 2021
---
A Coronavirus Playlist
A heartwarming, satirical songfest curated for your viewing and listening pleasure by Perfidy Press as a pandemic palliative.
---
Turkey Shoot the Movie
Turkey Shoot virtually attended the 2020 Frankfurt Book fair along with 200 other titles in the Independent Book Publishers Association's online booth, with its author lurking nearby to snag foreign rights agents and film studio scouts as they ethereally pass by. Exhibit A is this book trailer.
---
Turkey Shoot the Rap Sheet
Selling boo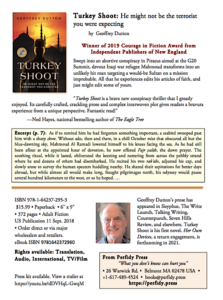 ks in venues like the Frankfurt Book Fair requires providing something called a tip or sales sheet. You need one to incentivize foreign publishers to translate and republish your book, and scouts from film studios to option it.The one we had for Turkey Shoot was way out of date, so we gave it a makeover. Please take one and put it in your book bag.
---
Perfidy Press the Bookstore
I've always had a love-hate relationship with amazon.com, especially as an author, but have found it hard to connect with independent bookstores to sell my work. And so, I got one of my own. It didn't cost anything and stocking it was a breeze. It's just a kiosk in the grand bazaar at bookshop.org, a nonprofit that aims to be an Amazon-killer and has sold tons of books online since debuting last winter.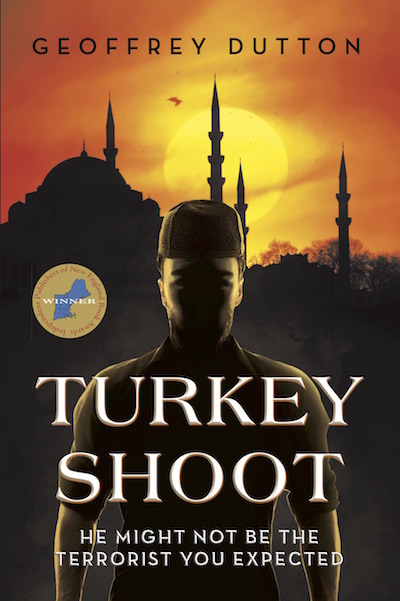 Unlike Jeff Bezos, bookshop.org gives away 75% of its proceeds to booksellers and publishers and, to date, claims to have remitted over $7M to them since it opened for business last winter. Once I found out any publisher can have its own store at bookshop.org and they would do the fulfillment and bookkeeping and even pay commissions, I was hooked.
Visit the Perfidy Press kiosk at bookshop.org by clicking on the book cover. Whether or not your do, please tell all your friends and relations to quit buying books from Amazon. Tell them that when they shop at bookshop.org they get to favor their favorite bookseller with a commission on whatever they purchase. It need not be Perfidy Press, but why not? Let them explain…
---
Say Hey to Mr. Fish
Perfidy is in full display in color and monochrome by the artist known as Mr. Fish at his website and store at clowncrack.com. He's a fabulous draughtsman who has mastered a range of media and styles to forcefully speak truth to power, as in this cartoon titled Donny Quixote.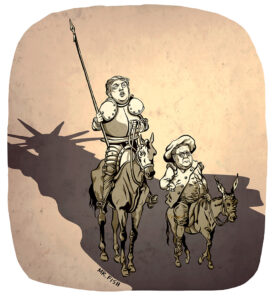 Check out his many two-dimensional representations of perfidy there, and If you like what you see, consider buying a print or shelling out for Mr Fish the Movie. (it's really good.)
---
Love, dolorem ipsum, and all that…