"You never know who your friends really are until you need them, and even then you might not know, but that's okay."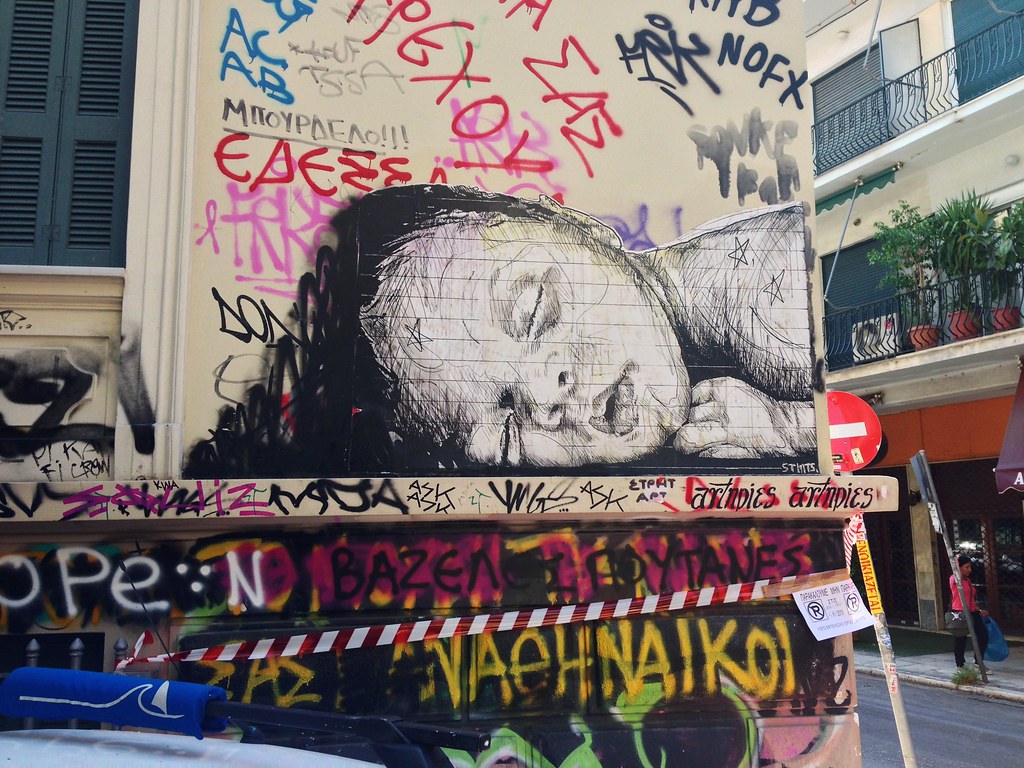 Regard this face of an immigrant girl, tenderly portrayed in restless sleep on the streets of Athens. Such children—and there are many—are the primary victims of conflicts in the Middle East and deprivations and depredations in the Global South. Greece, with all its economic problems, has borne the brunt of this influx. Compounding immigrants' woes, self-styled Greek patriots seek to expel them like vermin, and organized crime profits by doing so. And some of these actors are one and the same.
What evil might befall this child and others like her? Geoffrey Dutton's gripping novel is the story a single mother fending for herself who becomes a private eye on a mission to bring child traffickers to justice.
We're back in Athens to finish some of what certain people in Turkey Shoot started. Swiss ex-pat Katrina (having reclaimed her given name, Anna) has come home to Piraeus from Turkey to bear a son she names Ramadi after his late father, a child who she has no intention of raising solo. To garner a support system, the erstwhile anarchist starts a floating preschool that burgeons into a network of mothers and others that grim circumstances turn into a justice league with Anna at its bleeding edge.
After chancing upon a boy's kidnapping that her quick thinking foiled, intrepid Anna takes on the culprit and his partner when Greek law enforcement fails to put them out of business. Suspecting that a police detective who grilled her is protecting the operation, Anna follows the perps home and prevails on a friendly hacker to fashion a spy camera from a smartphone to illicitly train on their lair.  At the same time, Anna gathers s group of mothers and others as allies she hopes will have her back when her anticipated confrontation with the criminals and cops takes place.
All the while, as Anna shadows the traffickers, she herself is stalked by the ghost of her lover Mahmoud, Ramadi's father. Denied entrance to Paradise, undetected, he projects his vision from limbo to places and people he knew in life and interjects soliloquies throughout the book. His great desire is to locate his only brother alive and somehow acquire enough agency to connect him with Anna and Ramadi. Listen to him describe his unfortunate situation as the book opens, narrated by the author in a 4:45 mp3 audio:
As a working mother turned amateur detective, media evangelist, and anti-trafficking organizer, Anna bravely but insecurely abides. She's collectively homeschooling a precocious child she tries to shield from the harsh realities of her obsessive mission. For extra childcare and moral support, she leans on and comes to need her friend Andreas, perhaps more than he can handle. Weeks of surveillance and sleuthing yield little actionable evidence. Her resolve to pursue the traffickers flags. But a sudden event forces her to race to the scene to rescue the victim along with her untried action network of friends and kind strangers, hoping for the best …
Here's what some early readers have to say about the novel:
I am bowled over by the virility of the prose, the wealth of details. Very promising. — SC
Anna's detective work is compelling to read, it works well and flows nicely. — JA
I like the plotting and the way things are getting more dicey for Anna. Reads like butter. — DG
After many revisions and edits, Her Own Devices is complete and being polished with the help of readers and editors. See the main page for recent developments and links to excerpts.
Stay informed about its random walk to publication and enjoy updates on it and more by subscribing to Perfidy Press Provocations, our entertaining quisi-monthly newsletter. There's no obligation and you can unsubscribe with a single click. We keep all email addresses strictly private and respect your privacy and intelligence.